Welcome, to the second of my official draft reports for the 2019 NFL draft. I will be going position by position giving a full report and grade on every player that I have scouted this season. Obviously, I can't scout every single prospect in the entire country since I am a one man army and a full-time college student. I've tried to get at least 20 done at each position, so I think I've covered a pretty good chunk of the players who will be drafted. Each article will start with the worst and get to the best, so if you want to skip down to some of the better prospects you can do that.
Each profile will have some biographic data including name, school, year, height, weight, and "Red Flags". It will also include a numerical value between 1 and 10 that will dictate there placement in the rankings. The number is calculated based on my own personal grading formula for draft prospects. The profile will have a "round grade" that is based on a scale that I will put at the end of this introduction. Round grades are not a prediction of where a player will get drafted, but where I think they should be drafted.  Last but not least, the profiles will include a small paragraph on my overall thoughts on the prospect and some explanation on their NFL outlook. I'll try to explain some of each players strengths and weaknesses as well.  
As always you can hit me up on twitter (@DanteCollinelli) if you want to discuss my rankings further. I love talking ball with people so please let me know what you think.
Here's another disclaimer for you: Any running back on this list could rush for 1,000 yards if they are put in the right situation. Running backs is the hardest position to realistically rank because of this reason.
Grading Scale
First-round: 8.75-10
Second-round: 8.74-7.45
Third-round: 7.44-6.15
Fourth round: 6.14-4.85
Fifth round: 4.84-3.55
Sixth round: 3.54- 2.25
Seventh round: 2.24- .095
UDFA: 0.94-0.0  
Number 22: Travis Homer, Mami
Class: Junior
Height/Weight: 5'11 and 195
Round Grade: 7
Number Grade: 2.0
Red Flags: Injury concerns throughout his career at Miami.
Homer has some exciting flashes, but he was too injured at the University of Miami to invest in those flashes. He does show some good vision and the ability to wait behind his blockers for holes to open up. Homer runs super hard and will try to run people over in the open field, however, his frame does not allow for him to be very successful in that area. Homer is not gonna be a bell cow at the next level and will have to fight for a chance to carve out a backup role in year one.
Number 21: Tony Pollard, Memphis  
Class: RS Junior
Height/Weight: 5'11 and 200
Round Grade: 6
Number Grade: 3.04
Red Flags: None
There are two running backs from Memphis that should be drafted when April comes around. Pollard is the worse of the two, in my opinion, but he does have some value as a third down back. Pollard is a good pass catcher and has the quickness to be effective in an inside zone running scheme. Some of the concerns I have with Pollard are his ability to be an effective runner for more than a couple of carries a game. He has some questionable vision and a tendency to bounce outside too quickly. Pollard can contribute on special teams and be a third-down passing catching back right away.
Number 20: Dexter Williams, Notre Dame
Class: Senior
Height/weight: 5'11 and 203
Round Grade: 6
Number Grade: 3.32
Red Flags: None
Dexter Williams is a tough study because he has the production that suggests he should be higher on this list but lacks the needed traits. Williams had a good Senior Bowl where he showed off some good vision and short area quickness. That got him on my radar, so I went to watch his tape only to find out he has a lot of problems. Williams is a smaller back but I do not see the breakaway speed with him or the ability to a real pass catching threat out of the backfield. Pass catching for running backs is a big deal in the NFL right now so it kills Williams that it is not a strength. I wish he ran with some more power at times as well. He just does not finish falling forward enough for my liking. Williams could carve out a backup role if he displays the same amount of vision and quickness he showed at the senior bowl.
Number 19: Elijah Holyfield, Georgia
Class: Junior
Height/Weight: 5'10 and 215
Round Grade: 6
Number Grade: 3.5
Red Flags: None
I have to admit, I really liked Holyfield a lot more before the combine rolled around. I had a round four grade on him but then he ran his famous 4.89 40-yard dash time. Which is one of the slowest times for a running back all time. When you watch his tape you get excited because of how good his vision is and how powerful he runs. I understand if some people don't drop him as far as I did but he plays running back! You know, the position where running is like your main job. Holyfield has plenty of talent to carve out a specialty role for himself as a short yardage/goal line back or a primary backup. With that said, his lack of speed really limits his upside and potential at the next level.
Number 18: Bruce Anderson, North Dakota State University
Class: Senior
Height/Weight: 5'11 and 202
Round Grade: 5
Number Grade: 3.57
Red Flags: None
Anderson is someone who is flying under the radar in this running back class as we approach the draft. I love his ability to make cuts in the open field and make defenders miss at the second level. He has an angry running style and despite being a smaller guy he will often fall forward for extra yards. Anderson looks like a natural receiver out of the backfield and even showed the ability to be a solid route runner. Anderson starts to get into trouble sometimes because he always looking for the big play. He has a tendency to bounce runs outside too quickly and will lose a couple of yards instead of gaining a couple. I have some questions about his long speed as well, but I do not think it is too bad. Anderson has the skills to be a solid all-around contributor at the next level.   
Number 17: James Williams, Washington State
Class: RS Junior
Height/Weight: 5'11 and 195
Round Grade: 5
Number Grade: 4.10
Red Flags: None
James Willaims is everything the new hyper passing NFL looks for in a running back in that he is basically a receiver. Williams finished his career at WSU with over 200 catches but never ran for more than 100 yards in a single game. He runs routes like a receiver and has the ball skills that receivers have, which is great. The only problem is that he plays running back and I have a lot of questions about his effectiveness in that area. His vision is spotty at times especially when you consider that he ran against light boxes because of WSU's offensive scheme. Williams also has a tendency to bounce runs instead of taking a small gain inside the tackles. Williams is the perfect third-down back for today's NFL so it would not surprise me if he had a productive rookie season.
Number 16: Mike Weber, Ohio State
Class: RS Junior
Height/Weight: 5'9 and 215
Round Grade: 5
Number Grade: 4.21
Red Flags: None
Weber got lost in the shuffle this season at Ohio State with all of the talents they had on offense. Weber has elite contact balance, for a smaller player, which allows him to kind of just pinball around and before you know it he has picked up five yards. Weber is the definition of consistent because despite not having a lot of big plays he is going to get positive yards every time and that is valuable. Weber lacks long speed and burst so his NFL upside is a little limited as far as being a starter is concerned. Weber can be the perfect compliment to running back like Kenyan Drake, who has some big plays but he will also lose a lot of yards. Don't be shocked if Weber gets some carries his rookie season.
Number 15: Myles Gaskin, Washington
Class: Senior
Height/Weight: 5'9 and 191
Round Grade: 5
Number Grade: 4.39
Red Flags: None
It feels like Gaskin had been playing at Washington for 100 years, but his time is finally at an end. Gaskin is one of the most productive backs in this class rushing for 1,000 yards every year he started at Washington and became their all-time rushing leader. Gaskin has good vision always hitting the correct hole which he combines with smooth footwork allowing him to avoid contact at the line. Gaskin has a lot of physical limitations that come with his size. He can't really run with power. He also does not have the elusive traits at the second level that would make him a true dynamic rusher. When it comes to Gaskin you know what you are getting: a player who will come in and be a productive player from day one that you can rely on.
Number 14: Bryce Love, Stanford
Class: Senior
Height/Weight: 5'9 and 196
Round Grade: 5
Number Grade: 4.47
Red Flags: He's been injured basically every year at some point in time.
Bryce Love is actually kind of a tragic story when you break it down. Love ran for 2,000 yards in 2017 and was a finalist for the Heisman trophy. There was some talk that Love could have been a high draft pick in 2017, but he decided to go back to school for his senior season. Love spent most of 2018 on the bench with injuries which is a common theme for his career. When Love is healthy he is one of the fastest running backs in this class with the ability to run it to the house on every play. Outside of injuries, I am worried about Love's vision behind the line of scrimmage; he just does not pick the correct hole enough for me. Love can work as a compliment to a power based back like Frank Gore or Chris Carson. I like Love a lot when he is healthy, but I am not sure he can ever stay that way.
Number 13: Karan Higdon, Michigan
Class: Senior
Height/Weight: 5'9 and 190
Round Grade: 5
Number Grade: 4.67
Red Flags: None
Higdon is someone who flew under the radar a lot this season at Michigan. Something I noticed right away was that when Michigan gave Higdon a lot of carries they played better. I liked his ability to run between the tackles and wear defenses down despite being a smaller player. I liked his short area quickness especially at the second level where he is able to string together multiple moves to make people miss. My concerns with Higdon start with when I consider his style vs what his body type allows him to do. What I mean by that is, Higdon tries to run hard in between the tackles but because he is so small he gets tackled pretty easily. Too many times he was brought down by arm tackles. Higdon could be a rotational back at the NFL level next season.
Number 12: Ryquell Armstead, Temple
Class: Senior
Height/Weight: 5'11 and 215
Round Grade: 4
Number Grade: 5.28
Red Flags: None  
Armstead is someone I have had the pleasure of scouting in person since I attended all of Temple's home games this year (and one away game). I was also at Armstead's Pro-Day and I have to admit I was impressed. He looked super smooth going through drills, and he caught the ball well which I had some questions about. Armstead was a bell cow for the Owls this season and I think he can be a starter if put into a zone-heavy running scheme. My problems with Armstead have to do with his vision, especially in the open field. He makes some weird choices when he breaks contain. I've seen him almost run into contact instead of running away from it at times. Armstead could be more patient as well but overall I think he will have a productive career at the next level.
Number 11: Devine Ozigbo, Nebraska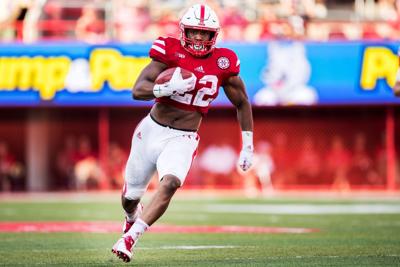 Class: Senior
Height/Weight: 6'0 and 230
Round Grade: 4
Number Grade: 5.29
Red Flags: None
The first thing you probably noticed is that Ozigbo and Armstead are only separated by one one-hundredth of a point; I really like both players as sleepers. Ozigbo did not get invited to the combine which is mind-boggling to me because his tape is pretty good. Ozigbo makes quick cuts in the hole with efficient footwork. He has good vision from the mesh point and will usually pick the correct hole. Something I love to see with prospects is how they improve over their college careers. Ozigbo improved tremendously from his junior to senior season, especially with his footwork. Ozigbo is not gonna burn anybody down the field with his speed and really struggled in pass protection at times. Ozigbo has some starter upside, but will probably be a backup his first year. Let's not forget that Devine Ozigbo is one of the best names in this draft class either.
Number 10: Trayveon Williams, Texas A@M
Class: Junior
Height/Weight: 5'9 and 200
Round Grade: 4
Number Grade: 5.73
Red Flags: None
Williams was someone I found pretty late in my tape watching cycle, but I was pretty happy with his tape when I finally got to it. He does a really good job finding running lanes that go against the grain of the defense. In simpler terms, he does a great job finding cutback lanes. Williams is a good receiver out of the backfield as well which NFL teams love. In theory, Williams has enough skills to be an everyday running back, however, I do not think he has the body type to do it. Willaims is small and though he runs with power he just isn't very successful at it most of the time. In short stretches, you can see all of the skills that would make a team think he could be their featured back. Williams projects more as a rotational piece with the ability to be a spot starter if needed.
Number 9: Justice Hill, Oklahoma State
Class: Junior
Height/Weight: 5'10 and 190
Round Grade: 4
Number Grade: 5.83
Red Flags: None
I might be the only person that I've seen with Hill in their top 10 running backs but guess what? I do not care because he is really good. Hill displays some of the best "cut on a dime" abilities in this entire draft class. Hill has great short area agility which allows him to juke the hell out of defenders in the secondary. Hill is also a threat in the passing game especially in the screen game because of his open field prowess. I have some similar concerns with Hill that I have with Trayvon Williams. Hill does not have much meat on his frame and is not very tall either so I worry about his durability. Hill did not show a lot of ability to run between the tackles either which could have been a scheme problem at Oklahoma State, but either way, I wish saw more of it. Hill has the same role at the next level as Trayvon Williams being a rotational back with starter upside.
Number 8: Benny Snell, Kentucky
Class: Junior
Height/Weight: 5'10 and 223
Round Grade: 4
Number Grade: 5.86
Red Flags: None
The best way to describe Benny Snell is just to call him a bowling ball of a player. He has really good short area burst and can just hit holes so hard that he blows them open himself. He has great contact balance so it usually takes a couple of defenders to get him on the ground. Snell is probably another running back that you won't see in a lot of people's top 10 lists but I love him. He is such a reliable runner always picking up 4 yards and falling forward for more. The questions with Snell are around his overall athletic traits, so I understand he won't be everyone's cup of tea. He does not have any type of breakaway speed or ability to make defenders miss in the open field. If your team just needs a solid starter who is gonna run with attitude and be productive then Snell is your guy.
Number 7: Rodney Anderson, Oklahoma
Class: RS Junior
Height/Weight: 6'1 and 219
Round Grade: 3
Number Grade: 6.26
Red Flags: Major injuries in three straight seasons
Man, Anderson is just a really difficult evaluation because of his injury history. The kid has had major neck, ankle, and knee injuries in just three seasons at Oklahoma. When he is on the field Anderson displays all of the skills to be an every-down back at the next level. Anderson runs with decent power in between the tackles and has enough speed to be a threat to blow the top off of a defense. His receiving skills are very good as well, and he is probably one of the better route runners when it comes to running backs in this class. Anderson can have some questionable vision at times but it was not a huge issue at Oklahoma. If not for injuries Anderson is probably in talks for the best running back in this class.
Number 6: Darrell Henderson, Memphis
Class: Junior
Height/Weight: 5'9 and 200
Round Grade: 3
Number Grade: 6.35
Red Flags: None
Henderson is a one dimensional running back so he only does one thing well, but he does that one thing extremely well. Henderson is the classic "home run" hitting back who can take any carry to the house. He has great long speed and can run away from anyone even if they have a good angle on him. He runs a lot more physical than his frame would suggest always keeping his legs moving through contact. Most of my concerns with Henderson are about what type of role he would fit at the next level. He is not a good pass protector or pass catcher so he won't see the field on third downs. He also is not a bell cow type player so most of the time you won't play him on both first and second down. Henderson could start at the next level for a team with established veteran running back that can come in on third downs and short yardage situations.
Number 5: Damien Harris, Alabama
Class: Senior
Height/Weight: 5'10 and 216
Round Grade: 3
Number Grade: 6.37
Red Flags: None
Harris is almost the direct opposite of Darnell Henderson. Henderson is great at one thing and poor in a lot of areas. Harris is great at nothing but good at everything. Harris runs with good power which he combines with good contact balance making him a difficult guy to bring down. He has really good vision at the mesh point and knows how to set up defenders to pick the wrong holes giving him wide open space. My only concern with Harris is that was not used much in the passing game at Alabama. His balanced skill set means he can be a day one starter for a team that has a glaring hole at running back, but he is not gonna get much better than what he already is. What you see is what you get with Harris.
Number 4: Devin Singletary, Florida Atlantic University
Class: Junior
Height/Weight: 5'9 and 200
Round Grade: 3
Number Grade 6.96
Red Flags: None
I try not to brag about players who have not produced anything at the NFL level yet, but I called this Singletary hype a long time ago. He was my number five running back in August and I have only strengthened my love for his game. Singletary is one of the most fun running backs to watch in this class because he makes defenders look silly. He has amazing footwork and can cut on a dime which leads to some highlight reel juke moves. His vision is solid as well so he can make good use of his cutting ability at the second level which leads to big runs. His acceleration is something that jumped out at me because his long speed is not very good. He really hits the hole hard and can gather speed for a short burst to get by defenders. Singletary did not have a very good combine but his numbers were not bad enough to change my mind about his grade on my board. Singletary can start at the next level and can be an every-down back depending on how he develops as a pass catcher.
Number 3: Miles Sanders, Penn State
Class: Junior
Height/Weight: 5'11 and 211
Round Grade: 2
Number Grade: 7.61
Red Flags: None
I have to admit I was not that high on Miles Sanders when the college football season ended. After I did a deep dive into his tape and watched him ball out at the combine I was sold on him being a top running back prospect. Miles Sanders has some of the best open field cuts in the class and his foot speed is out of this world good. He runs with a plan and has a good burst to hit the hole hard making the most of his opportunities. He sat behind Saquon Barkley for so long that I think I forgot just how good he could be. My one and only concern with Sanders is sometimes he tries to do much. I said he runs with a plan but sometimes it is not the best plan. He will bounce runs too often to the outside instead of taking the simple two-yard gain. Sanders should be a starter somewhere next season and a successful one at that.
Number 2: David Montgomery, Iowa State
Class: Junior
Height/Weight: 5'11 and 216
Round Grade: 2
Number Grade: 8.22
Red Flags: None
I feel like David Montgomery does not get enough credit for what he did at Iowa State these past two seasons. This man was basically 80 percent of ISU's offense the past two years; he was a bell cow running back and a reliable receiver out of the backfield. Montgomery's tape is filled with him breaking tackles and making defenders miss at all three levels of the field. He has amazing contact balance and always keeps his legs moving when he gets wrapped up. Montgomery had to deal with some really poor blocking in front of him and was still productive which is something I love to see in college running backs. At times, Montgomery can start to freelance too much and pick the wrong hole or not follow his blockers. I think it is more because he did not trust his guys (can't say I blame him) rather than him having bad vision. Montgomery has all of the skills needed to come in day one and be a three-down starting running back.
Number 1: Josh Jacobs, Alabama
Class: Junior
Height/Weight: 5'9 and 216
Round Grade: 1
Number Grade: 8.77
Red Flags: Hamstring injury has been bothering him since the end of the season.
I was really surprised when Jacobs decided to enter this year's draft, but I am really happy he did. Jacobs is one of the most powerful runners I have seen in my short time covering the draft. He will run people over at any level of the field and in any game situation. He has excellent vision and is able to find holes that a lot of other players can not. Jacobs does a really good job of making a crisp cut and then accelerating out of that cut into open space making for some big plays. Jacobs looks like a solid receiver out of the backfield so he can play on all three downs for any team. There are some questions about Jacob's long speed because he ran a 4.60 at his Pro-Day. If you watch Jacob's tape you can see he does not have the long speed but that is not really his game. Jacobs is the best running back in this class by a good margin and should start day one for someone next season.