Welcome, to the fourth of my official draft reports for the 2019 NFL draft. I will be going position by position giving a full report and grade on every player that I have scouted this season. Obviously, I can't scout every single prospect in the entire country since I am a one man army and a full-time college student. I've tried to get at least 20 done at each position, so I think I've covered a pretty good chunk of the players who will be drafted. Each article will start with the worst and get to the best, so if you want to skip down to some of the better prospects you can do that.
Each profile will have some biographic data including name, school, year, height, weight, and "Red Flags". It will also include a numerical value between 1 and 10 that will dictate there placement in the rankings. The number is calculated based on my own personal grading formula for draft prospects. The profile will have a "round grade" that is based on a scale that I will put at the end of this introduction. Round grades are not a prediction of where a player will get drafted, but where I think they should be drafted.  Last but not least, the profiles will include a small paragraph on my overall thoughts on the prospect and some explanation on their NFL outlook. I'll try to explain some of each players strengths and weaknesses as well.  
As always you can hit me up on twitter (@DanteCollinelli) if you want to discuss my rankings further. I love talking ball with people so please let me know what you think.
Grading Scale
First-round: 8.75-10
Second-round: 8.74-7.45
Third-round: 7.44-6.15
Fourth round: 6.14-4.85
Fifth round: 4.84-3.55
Sixth round: 3.54- 2.25
Seventh round: 2.24- .095
UDFA: 0.94-0.0  
Number 23: Kendall Blanton, Missouri
Class: RS Senior
Height/Weight: 6'6 and 260
Round Grade: 7
Number Grade: 2.08
Red Flags: None
Blanton is a huge man with the ability to use his body to fend off most defenders to make catches in the red zone and down the field. The only problem with Blanton is that he can not separate at all and completely relies on his size to be productive. He doesn't show much upside as a blocker either which limits him even more. Some team might take a shot in the seventh round based on size but it is hard to see how Blanton can make an impact on the field at the next level.
Number 22: Andrew Beck, Texas
Class: Senior
Height/Weight: 6'4 and 260
Round Grade: 6
Number Grade: 3.09
Red Flags: None
Beck is a bit of a throwback tight end which just doesn't bode well for his NFL outlook. Beck is a tough player willing to go up against anybody in the run game. The only issue is, Beck doesn't win that often 1v1. He does a good job as a chip blocker and supporter on double teams. He has pretty solid hands in the passing game, however, he's super limited as both a route runner and athlete. Only chance Beck has at an NFL career is being a third-string tight end who is used as a blocker with the occasional pass-catching opportunity.
Number 21: Brandon Fritts, North Carolina
Class: Senior
Height/Weight: 6'4 and 250
Round Grade: 5
Number Grade: 3.61
Red Flags: None
Fritts has a lot of tools that I actually like a lot for someone most people don't even have ranked. Fritts is a good blocker who understands leverage and how to apply it in the running game. He has experience lining up as a fullback, in-line tight end, and in the slot. He displayed soft hands and the ability to sit down in zone coverage as a pass catcher. Fritts is tough to evaluate because he never got thrown at in college. North Carolina had one of the worst offenses in the country this past season, with a specially bad passing game. Fritts isn't a great athlete but he offers a lot as a blocker and enough as a pass catcher to make it at the next level.
Number 20: Donald Parham, Stenson
Class: Senior
Height/Weight: 6'8 and 240
Round Grade: 5
Number Grade: 3.69
Red Flags: injured pretty much the entire pre-draft process.
Yes, you read that right. Donald Parham is a massive 6 foot 8 inches tall! The reason I have him ranked higher than someone like Kendall Blanton is because Parham looks like a fluid mover on tape. Parham showed the ability to make some difficult catches by snatching the ball out of the air away from his body. Parham is a high upside pick but that comes with significant risk because he is pretty raw. He doesn't show much in the realm of route running or much in the way of blocking. There is a pretty good chance Parham goes undrafted because he's been injured since the Senior Bowl, and he comes from a small school. If he taps into his potential he can be a unique weapon for an NFL offense.
Number 19: Caleb Wilson, UCLA
Class: RS Junior
Height/Weight: 6'5 and 235
Round Grade: 5
Number Grade: 3.87
Red Flags: None
Caleb Wilson opened some eyes with his impressive testing numbers at the combine this year. I went back to the tape to see if I missed something on Wilson, and turns out I didn't. Wilson has some experience as a receiving tight end that some teams might like. He showed the ability to sit down in zone coverage and make some difficult catches outside of his body. While Wilson's best trait is probably receiving, he has a lot of drops scattered throughout his tape. Wilson isn't really much of a blocker either. He rarely creates any type of leverage or holes for his runners when asked to block in-line. Wilson may have some use as a slot tight end only, but that limited versatility will make him hard to draft before the fifth round.
Number 18: Kaden Smith, Stanford
Class: Junior
Height/Weight: 6'5 and 253
Round Grade: 5
Number Grade: 4.14
Red Flags: None
When I see Kaden Smith I almost feel like a failed parent at times. I talked him up all college football season as the third-best tight end in this class. If you couldn't tell by his ranking: things didn't really work out. I love his reliable hands and ability to make difficult catches away from his body. He has some really impressive plays on tape but he's just so limited. Smith doesn't offer much as a route runner or as an in-line blocker. He also ran a 4.90 40-yard dash which is just unacceptable. I challenge you to find a tight end in the NFL with success that ran as slow as Smith did. Smith may offer some ability as someone who can run the seam and make plays in the red zone, but he has a lot of work to do if he wants to stick in the league.
Number 17: Zach Gentry, Michigan
Class: RS Junior
Height/Weight: 6'7 and 248
Round Grade: 5
Number Grade: 4.20
Red Flags: None
I could copy and paste pretty much the same pro's and con's that I had for Kaden Smith for Zach Gentry. Gentry is a reliable target with effectiveness in difficult catch situations. Like Smith, he ran in the 4.90's at the combine and doesn't have much upside in the blocking arena. Gentry has a huge frame so is lack of blocking is a frustrating thing to watch on tape. Gentry may be able to carve out a role as a seam runner who makes some plays in the red zone. The combine just really killed Gentry's stock this year.
Number 16: CJ Conrad, Kentucky
Class: Senior
Height/Weight: 6'4 and 245
Round Grade: 5
Number Grade: 4.34
Red Flags: Heart condition discovered at the combine. He has been cleared since.
Conrad had a scare at the combine when he was diagnosed with a heart condition that could have ended his career. He's been cleared since and the last that I heard was that he would work out at Kentucky's pro-day. Conrad showed that he is a solid route runner in the shorter areas of the field and that he had enough speed to stack defenders up down the field. I liked his work against zone coverage as well with an ability to sit down and open space to make plays. Conrad lacks the burst and athletic ability to be a truly dynamic threat in the passing game. He has experience in multiple fronts and is good enough to stick at the next level.
Number 15: Isaac Nauta, Georgia
Class: Junior
Height/Weight: 6'4 and 246
Round Grade: 5
Number Grade: 4.52
Red Flags: None
Nauta is the third tight end on this list to run in the 4.90's, but Nauta's pre-combine grade was high enough that he didn't fall as far as the other guys. Nauta is a willing blocker and he is really good at it. There is a rep from a game in 2017 where he single-handedly beat Kentucky edge Josh Allen in the running game. As a pass catcher, Nauta has limited production to go off of but he was most effective running the seam and sitting down in zone coverage. Nauta has a chance to be a reliable backup tight end but might struggle at the next level because he lacks the ability to separate.
Number 14: Trevon Wesco, West Virginia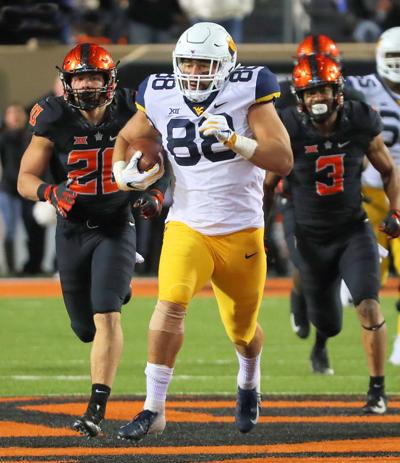 Class: Senior
Height/Weight: 6'4 and 270
Round Grade: 4
Number Grade: 5.00
Red Flags: None
Wescon has been a late riser out of this tight end class this season for me. His tape is some of the most fun I had this season. He kills people blocking in the running game with brute strength and good hand placement. He excels as a reliable underneath target that gets a lot of YAC yards because he is so big and physical. Wesco suffers from some of the same problems of guys like Nauta, Smith, and Gentry in that he is super slow. Wesco ran a 4.87 which just kept him out of the 4.90 death zone for tight ends. At the very least, Wesco can be a reliable TE 2 for some team needing help run blocking or protecting the quarterback while having some pass-catching ability.
Number 13: Alize Mack, Notre Dame
Class: RS Junior
Height/Weight: 6'4 and 251
Round Grade: 4
Number Grade: 5.86
Red Flags: Sat out his sophomore season because of academics. Had injuries his junior season. Suspended for the Citrus Bowl in 2017.
Alize Mack has been in trouble for so much of his career it is hard not to worry about that going into the NFL. Despite his character concerns, Mack brings a lot of desirable traits to the table. Mack has great body control out in space and in the air allowing him to make some impressive contested catches. He has enough speed to stack some defenders down the field but isn't really a burner. Mack lacks some of the burst in and out of his breaks that make you think he can be a good route runner at the next level. Overall, Mack is an appealing option for a team looking to bolster its playmakers if you can make it past some of the off-field problems.  
Number 12: Tommy Sweeney, Boston College
Class: Senior
Height/Weight: 6'5 and 255
Round Grade: 4
Number Grade: 6.06
Red Flags: None
I can almost guarantee that nobody else is as high on Tommy Sweeney as I am. I've been on his game since September, and I'm not backing off now. Look, is he the most athletic guy? Or the fastest guy? No, to both of those. With that said, he has some of the best hands in this class with some truly impressive catches on his resume. He uses his big body to box out defenders down the field and get position in the red zone. He's a great blocker in the run game with his hands and sheer power. As a pass blocker, he was given limited opportunity but looked fine when he was given a chance. Sweeney projects as the perfect TE 2 for a team that needs a great run blocker that's a big target with reliable hands.  
Number 11: Kahale Warring, San Diego State
Class: RS Junior
Height/Weight: 6'5 and 252
Round Grade: 3
Number Grade: 6.20
Red Flags: None
Warring is someone who I found super late in the process, like, he was one of the last prospects I watched this year. Warring is basically a big receiver when out on the field, typically playing in the slot. He has some impressive plays on film where he makes diving catches and plenty where he jumps over people. One of the things that impressed me the most was his route running ability for a smaller school guy. He has good short area quickness which allows him to create consistent separation down the field from his defenders. Warring has a long way to go as a blocker when it comes to technique but he has the brute strength that should allow him to develop effectively. Warring is a good TE 2 with some TE 1 upside if he can continue to work on his game.  
Number 10: Foster Moreau, LSU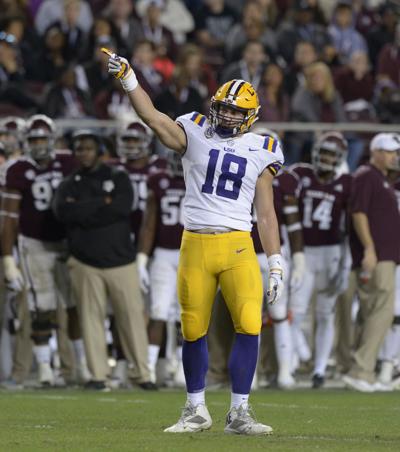 Class: Senior
Height/Weight: 6'6 and 256
Round Grade: 3
Number Grade: 6.58
Red Flags: None
I'm not gonna lie, but I really didn't like Moreau for most of the college football season. I wrote him off as a pure blocker with no pass-catching upside at LSU. It was easy to do because he had almost no production at his time in college. Well, Moreau opened my eyes at the Senior Bowl with his performances. He looked like an above average athlete who could be an effective route runner with soft hands. When I popped in Moreau's tape I saw some flashes of an athletic balanced tight end. His blocking is pretty good in both the passing and running game that should get him on the field early as a TE 2. Just like Warring, I think he has the upside to become a TE 1 some day.  
Number 9: Drew Sample, Washington
Class: RS Senior
Height/Weight: 6'4 and 251
Round Grade: 3
Number Grade: 6.85
Red Flags: None
Sample is one of the safest prospects in this entire draft class. He is not the best athlete in the world or a dynamic threat in the open field, but he is reliable. He has good soft hands that allow him to make some contested catches. He's a solid route runner who is experienced in working the middle of the field. Sample ran well enough at the combine to be considered a deep threat depending on the matchup that given week. I like Sample's ability to be a good run blocker consistently opening up lanes for his backs. Sample may be limited in some ways but his overall skill set should be valuable for a lot of NFL teams. Sample can be a starter down the line if given the right chance.
Number 8: Jerome Washington, Rutgers
Class: Senior
Height/Weight: 6'4 and 268
Round Grade: 3
Number Grade: 7.04
Red Flags: He's been consistently injured every year of his career at Rutgers.
Alright, people here you have it my big sleeper for the tight end class. Washington is a huge risk for a number of reasons but the biggest one is injuries. He's just never been able to stay on the field which is a shame because he's so good on it. Washington is a decent route runner with some impressive catches littered throughout his tape. He is one of the better blockers in this class, especially, at the point of attack, which makes him a balanced option. There is a good chance that Washington doesn't even get drafted because of playing at Rutgers, having little production, and lots of injuries. If a team is willing to take a chance on Washington then I think he has the upside to be a true TE 1 at the next level.
Number 7: Dax Raymond, Utah State
Class: Senior
Height/Weight: 6'5 and 280
Round Grade: 2
Number Grade: 7.57
Red Flags: None
Dax Raymond's best quality is his strength which he uses in all facets of his game. As a receiver, he bullies defenders down the field with strong hands and boxes them out at the catch point. While his blocking needs some work, there are plenty of flashes of him using his functional strength to manhandle guys. Raymond excels after the catch with his bigger body allowing him to flat out run people over down the field. His route running is helped by the fact that he has great contact balance. That just means he can beat press coverage and fight through contact down the field. If you can improve Raymond's blocking in the run game then he has all the tools to be an effective starting tight end at the next level.
Number 6: Josh Oliver, San Jose State
Class: Senior
Height/Weight: 6'5 and 253
Round Grade: 2
Number Grade: 7.73
Red Flags: None
Last season, I was super high on a Mike Gesicki (TE, Penn State), and I was pumped when the Dolphins drafted him in the second round last year. Gesicki had a less than an ideal rookie season, putting it lightly. Oliver reminds me of Gesicki when it comes to playing style and some athletic traits. Oliver has a great athletic profile and he has some great catches on film where shows elite body control and jumping ability. Oliver isn't a polished route runner or a good blocker in either the running or passing game. Oliver is an athletic ball of clay that can be molded into an elite weapon but could also fail easily. If he doesn't pan out it'll be the last time I make this mistake.
Number 5: Dawson Knox, Ole Miss
Class: Junior
Height/Weight: 6'4 and 250
Round Grade: 2
Number Grade: 7.92
Red Flags: None
Dawson Knox is difficult to evaluate because Ole Miss literally never threw him the ball. He caught 0 touchdowns in three seasons at Ole Miss! So, what am I asking you to invest in here? Knox has some really appealing athletic traits combined with good hands and good blocking. Knox tore up the combine and his traits show up on his limited opportunities on tape. He runs the seams with speed and efficiency, which is where most of his production came from. Knox shows incredible body control when having to adjust to poorly thrown balls. His lack of production may scare some teams away but his athletic profile definitely means he will be a better pro than college player.
Number 4: Jace Sternberger, Texas A@M
Class: Junior
Height/Weight: 6'4 and 250
Round Grade: 2
Number Grade: 8.10
Red Flags: None
Sternberger is a JUCO transfer with only one real season of college football under his belt, but he impressed this year. Sternberger has a great frame helping him win down the field and in contested catch situations. Sternberger is a great athlete who can control and contort his body in the air to make tough catches. In the blocking arena, Sternberger uses his big frame to control defenders and keep them in check for the most part. Sternberger will have to work heavily on his route running and pass blocking, but he has all the tools to be a TE 1 at the next level.
Number 3: Irv Smith Jr, Alabama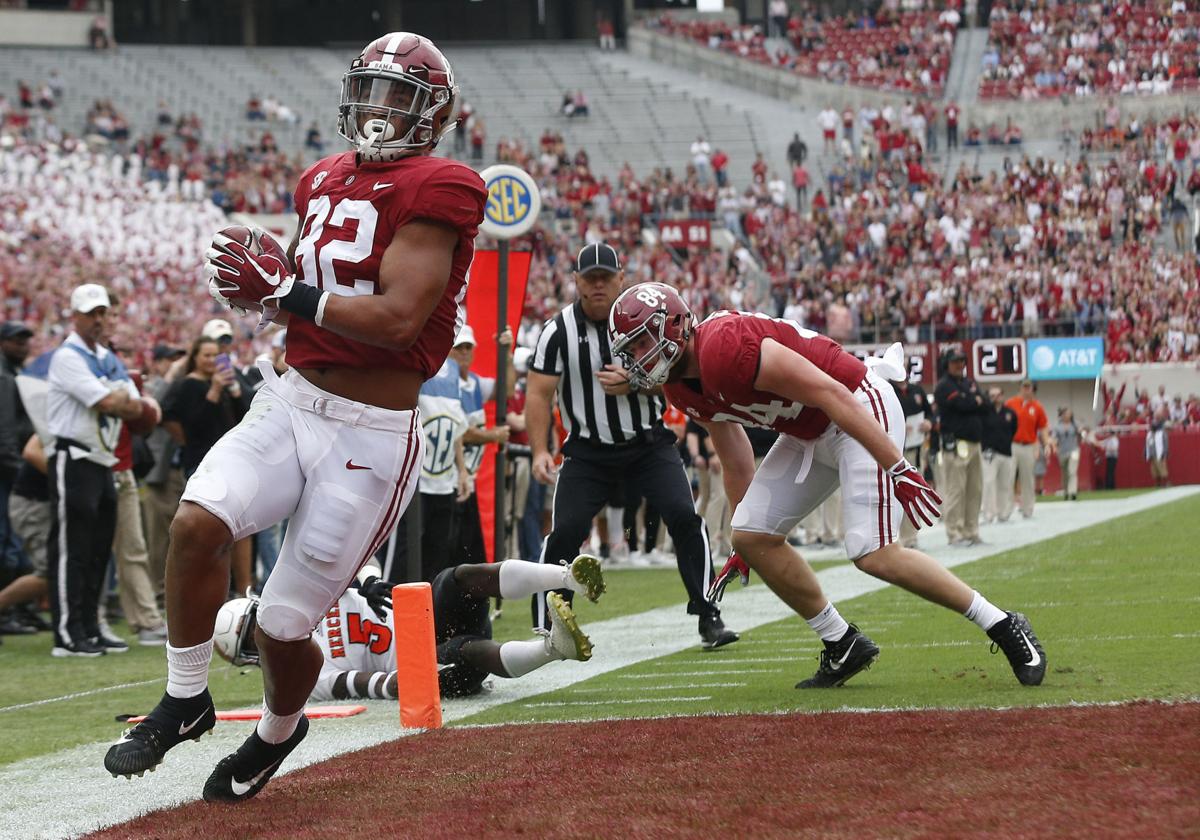 Class: Junior
Height/Weight: 6'4 and 243
Round Grade: 2
Number Grade: 8.38
Red Flags: None
Smith is one of the better route runners to come out of the class since he went to Alabama. The Crimson Tide tight ends run a much more varied route tree than most. Smith will use hesitation to throw his defenders off and create space for himself. Smith also provided value as an elite run blocker with experience in multiple schemes throughout his career. He even showed off some open field juke moves at times, but I wouldn't call them anything special. Some questions I have with Smith are if he can make contested catches and is he athletic? He was almost always wide open at Alabama so it's a bit hard to gauge those two things, functionally speaking. Smith has all the talent to be a starter at the next level.
Number 2: Noah Fant, Iowa
Class: Junior
Height/Weight: 6'4 and 234
Round Grade: 1
Number Grade: 9.10
Red Flags: None
It's hard to classify Noah Fant as simply a tight end because he is more than that. Fant is a premier NFL weapon. He is crazy athletic for his size and is blazing fast for his size as well. He runs the seam like a receiver would but has the body of a tight end to box out defenders and bully them at the catch point. Fant is the only tight end in this class that you can lineup on the outside as an "X" receiver, in the slot, and on the end of the line. There is this narrative that Fant can't block but that isn't true at all. He could use some work for sure but his blocking is good enough to get him on the field early in the NFL. Fant is the future of the NFL tight ends and one of my favorite players in this class.
Number 1: TJ Hockenson, Iowa
Class: RS Sophomore
Height/Weight: 6'5 and 243
Round Grade: 1
Number Grade: 9.17
Red Flags: None
TJ Hockenson and Noah Fant are one of the best duos of college players to come to the NFL in a long time. They are very different players but play the same position. Hockenson is more of a classic tight end who lines up at the end of the line every play. Hockenson blocks in the run game better than some offensive tackles in this class and can hold his own in the passing game. He is a great route runner with strong, soft hands to rope the ball in. Hockenson has plenty of speed and athletic ability to be a legitimate threat down the field. He's got plenty of spectacular catches scattered all over his tape to prove it. Hockenson is one of the best tight ends to come out of the draft in quite a long time and it wouldn't surprise me if he made an immediate impact in his rookie season.