Welcome, to the fifth of my official draft reports for the 2019 NFL draft. I will be going position by position giving a full report and grade on every player that I have scouted this season. Obviously, I can't scout every single prospect in the entire country since I am a one man army and a full-time college student. I've tried to get at least 20 done at each position, so I think I've covered a pretty good chunk of the players who will be drafted. Each article will start with the worst and get to the best, so if you want to skip down to some of the better prospects you can do that.
Each profile will have some biographic data including name, school, year, height, weight, and "Red Flags". It will also include a numerical value between 1 and 10 that will dictate there placement in the rankings. The number is calculated based on my own personal grading formula for draft prospects. The profile will have a "round grade" that is based on a scale that I will put at the end of this introduction. Round grades are not a prediction of where a player will get drafted, but where I think they should be drafted.  Last but not least, the profiles will include a small paragraph on my overall thoughts on the prospect and some explanation on their NFL outlook. I'll try to explain some of each players strengths and weaknesses as well.  
As always you can hit me up on twitter (@DanteCollinelli) if you want to discuss my rankings further. I love talking ball with people so please let me know what you think.
Grading Scale
First-round: 8.75-10
Second-round: 8.74-7.45
Third-round: 7.44-6.15
Fourth round: 6.14-4.85
Fifth round: 4.84-3.55
Sixth round: 3.54- 2.25
Seventh round: 2.24- .095
UDFA: 0.94-0.0  
Number 22: Martez Ivey, Florida
Class: Senior
Height/Weight: 6'5 and 313
Round Grade: UDFA
Number Grade: 0.93
Red Flags: None
So, I could really sum up Martez Ivey by saying that he can't really pass block and that would be enough to justify a UDFA grade. I'll try to elaborate a little bit more though. Ivey false steps all the time and struggles against practically every single pass rush move that you can think of. He has some ability in the running game moving bodies with pure power but his technique still needs work in that area. Pray your team doesn't draft Martez Ivey because he's not gonna make the team.  
Number 21: Tariq Cole, Rutgers
Class: Senior
Height/Weight: 6'6 and 320
Round Grade: 7
Number Grade: 1.56
Red Flags: None
Cole is a very very big man if you couldn't tell by looking at his height and weight. He uses that size and power well in the run game to move bodies off the line of scrimmage. He's got a decent anchor but it's more because of his sheer size rather than good technique. Cole lacks pretty much all the movement skills required for a modern tackle. His lower body is very stiff and he has trouble moving out in space to be the lead blocker for running plays. Cole is an interesting developmental project if you can slim him down and maximize his running blocking abilities.
Number 20: Mitch Hyatt, Clemson
Class: Senior
Height/Weight: 6'5 and 305
Round Grade: 6
Number Grade: 2.55
Red Flags: None
Let me describe Mitch Hyatt to you all a little bit, okay? He's a four-year starter for one of the best teams in the country at the most important position on the offensive line. He's widely regarded as a great leader and had some success at Clemson. After all that you're probably thinking this player should be a lot higher, right? Let me describe him some more for you then. He gets horrible hand placement while lacking the natural strength to move people off the line. Hyatt doesn't have a good anchor to compete with power rushers or the athletic ability to compete with speed rushers. After all of that, what do you think now? Hyatt can provide a team with a good locker room presence and some depth on the line but that's it.
Number 19: Oli Udoh, Elon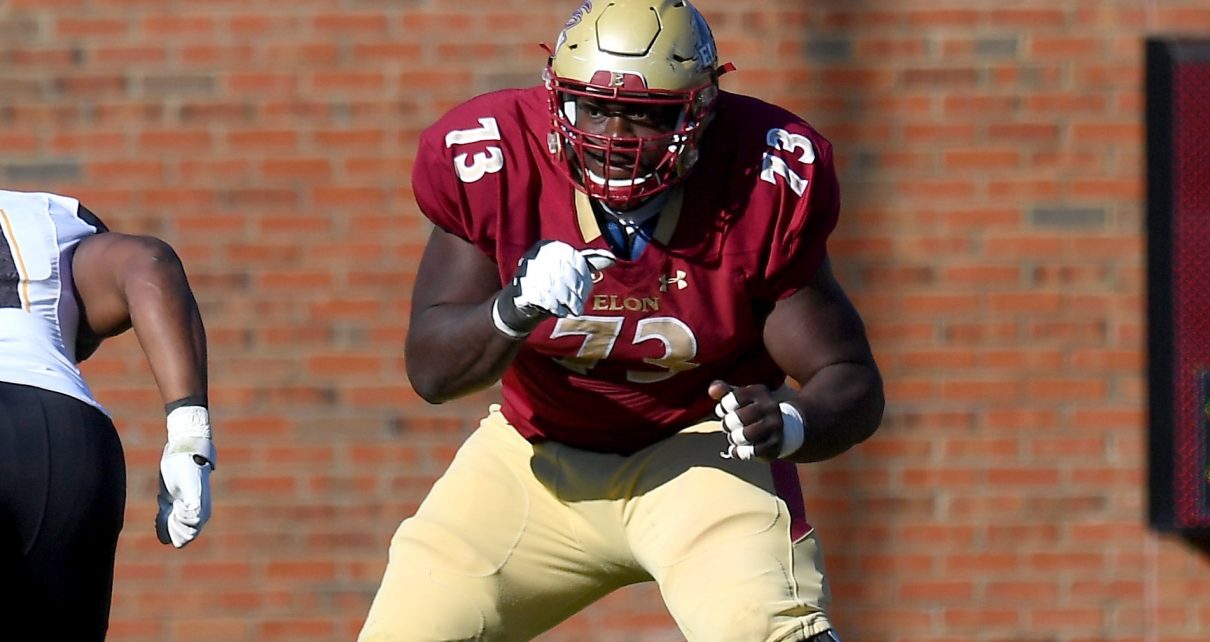 Class: RS Senior
Height: 6'6 and 327
Round Grade: 6
Number Grade: 2.63
Red Flags: None
Oli Udoh had some hype heading into the Senior Bowl as a deep sleeper pick for a tackle. I'm not gonna lie but I have only seen three games for Udoh because getting good film for someone from Elon is not easy. Udoh has some intriguing physical traits that I think a lot of teams will love. He's got sufficient power to be effective in the running game. My issues with Udoh have to do with questions of athletic ability and his pass blocking technique. He can get sloppy with his footwork and open his stance too much leading to him getting off balance at times. He's an interesting prospect at the position but not the sleeper that everyone was hoping for.
Number 18: Max Scharping, Northern Illinois
Class: Senior
Height/Weight: 6'6 and 320
Round Grade: 6
Number Grade: 2.99
Red Flags: None
Scharping is another player who I think people wanted to like in January but once they turned on the tape they cooled on him. In the run game, Scharping does a good job with seal blocks collapsing the line and getting to the second level to eat linebackers alive with his size. Scharping is yet another prospect that I just don't like as a pass blocker all that much. His kick slide doesn't cover a lot of ground and sometimes he will open up his hips way too much at the line. He doesn't look like a smooth mover in the open field and his foot speed feels pedestrian, which limits his upside a good bit. Scharping is nothing more than a depth option on the line.
Number 17: Calvin Anderson, Texas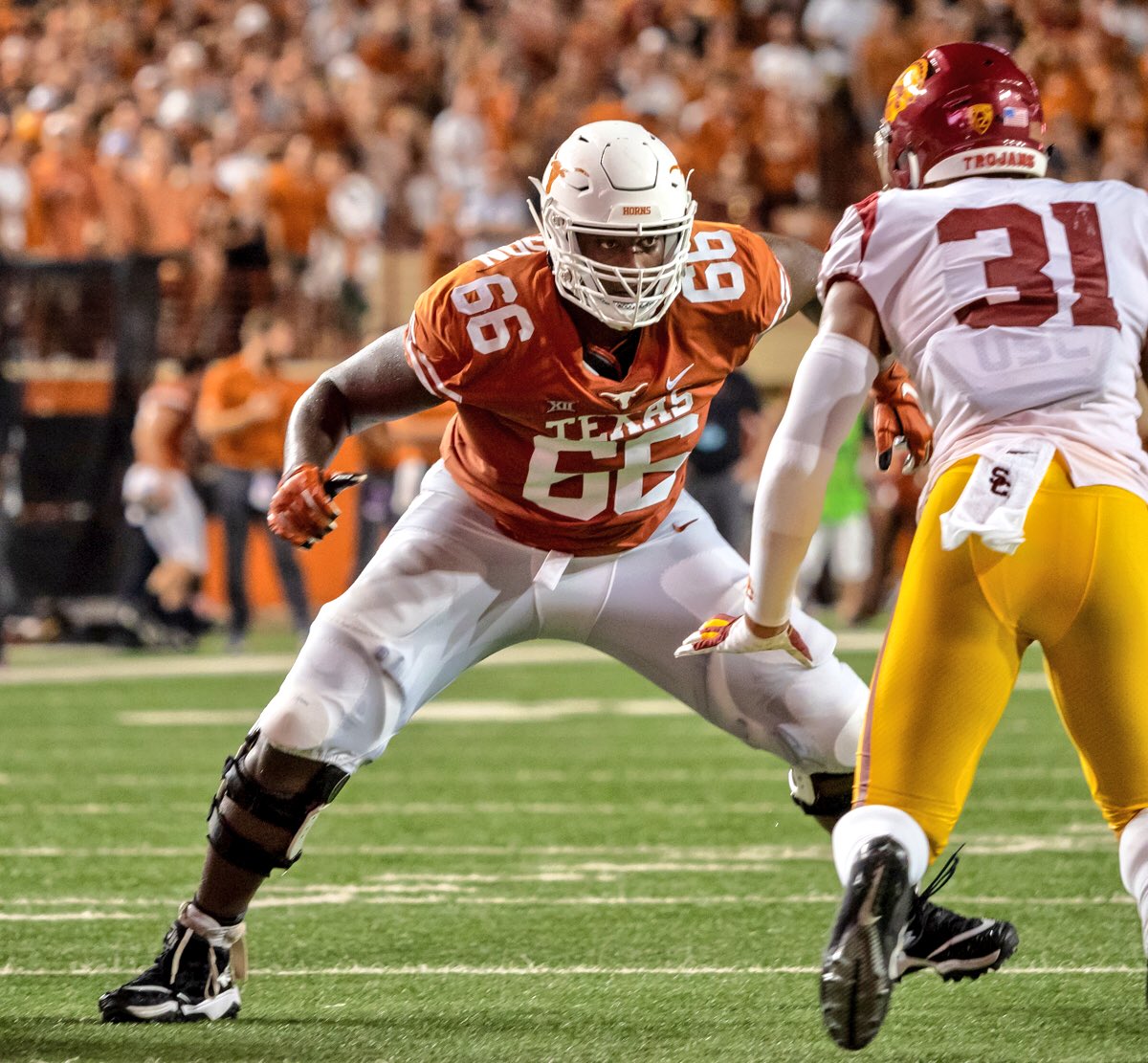 Class: Senior Graduate Transfer
Height/Weight: 6'5 and 300
Round Grade: 6
Number Grade: 3.27
Red Flags: None
Anderson has been playing college football for 5 years now and there is a good chance he doesn't get drafted in April, however, I see some developmental traits in his game. When given a short pass set he does a good job to build his base before the defender can get on top of him. He has good length so he can keep defenders off of his chest plate and reach defender down the line in the run game. Anderson has some athletic concerns when it comes to moving in space and handling speed rushers off the edge. Sometimes you will see him just chase guys around the edge instead of forcing them out there like he should. His lower half can be stiff at times, as well, which leads to him being late getting into his anchor. Anderson has some traits that could lead him to be a perfect "swing tackle" for a team looking for depth on the line.
Number 16: Ryan Bates, Penn State
Class: RS Junior
Height/Weight: 6'4 and 305
Round Grade: 5
Number Grade: 3.79
Red Flags: None
I was expecting Ryan Bates to be an undrafted free agent grade on my board going into his tape. I typically don't love offensive lineman from Penn State and I had never heard of him before. Like a good scout though I made sure my mind remained open, and I was surprised. Bates has enough traits to be a decent swing tackle at the next level for some team needing some depth. He does a good job with hand usage and swiping away defenders hands with a nasty club move. He has some pretty quick and active feet in the run game that will benefit him in an outside zone scheme. Bates struggles on occasion with landing his first punch and stunning defenders in there place as well as letting defenders get into his chest plate to easily.
Number 15: Tyler Roemer, San Diego State
Class: RS Senior
Height/Weight: 6'7 and 307
Round Grade: 5
Number Grade: 3.80
Red Flags: Dismissed from team in 2018
Here's how you know that a certain position group isn't very deep: you count all the hype "Sleepers" that aren't actually good. Roemer is another guy who got some hype a couple of months ago before people eventually cooled down on him. This happens because scouts want to find good players that nobody knows about so they hype up people before watching there tape. When I turned on Roemer's tape I saw a player who does a good job with vertical run blocking and has some decent pass sets. He has a long way to go with his hand usage because he rarely wins those battles. To add onto his overall rawness he was dismissed from San Diego State in 2018 which isn't a great look for a player.
Number 14: Isaiah Prince, Ohio State
Class: Senior
Height/Weight: 6'6 and 310
Round Grade: 5
Number Grade: 3.81
Red Flags: None
Man, I really wanted to like some of Ohio State's prospects this year but I'm just super low on them across the board. I'm low on Haskins, Campbell, and Michael Jordan. Prince has some appealing length that he can use to keep pass rushers at bay, and he does a pretty good job in vertical pass sets. Something that stuck out on tape to me was that he looked a little soft to me. He didn't use his length much and just seemed afraid of contact in certain situations. Prince could have some use as a right tackle at the next level with some "swing tackle" upside, but he's got a lot of technical work to do first.
Number 13: Chuma Edoga, USC
Class: Senior
Height/Weight: 6'4 and 295
Round Grade: 5
Number Grade: 4.18
Red Flags: USC coaches have questioned his work ethic. 
Edoga is a tough prospect for me to evaluate for more than on the field reasons. After the Senior Bowl, Matt Miller (@nfldraftscout) said that USC coaches said Edoga's work ethic was not good at all. Matt Miller is the head media scout over at Bleacher Report and someone who I have a lot of respect for, so I believe him. As far as on the field goes, Edoga showed out at the Senior Bowl which is what put him on my radar. He's a pretty smooth mover in space and has quick feet which allowed him to build his base pretty quickly in pass protection. Edoga has a soft anchor leading him to get by bull rushers way too often. Teams will have to weigh whatever potential off the field issues against his upside as a potential starter in the league.
Number 12: Tyree St Louis, Miami
Class: Senior
Height/Weight: 6'5 and 312
Round Grade: 5
Number Grade: 4.44
Red Flags: None
St Louis is such a frustrating player for me because he has some impressive flashes on tape but isn't consistent with it at all. For a bigger guy, St Louis has some pretty nimble feet and can move laterally pretty well. I like his hip flexibility which makes his anchor quick and strong against power rushers. He has the natural power and length that teams look for in tackle prospects but he's lacking consistency. He struggles to get good depth on his pass sets out of his kick slide at times. The timing of his punches needs some work as well because his hands hit hard when he syncs everything up correctly. I think St Louis has some starter upside at the next level at either tackle spot.
Number 11: Tytus Howard, Alabama State
Class: RS Senior
Height/Weight: 6'5 and 332
Round Grade: 4
Number Grade: 5.00
Red Flags: None
Of all the tackle sleepers from this draft class Tytus Howard is the only one who I have any kind of belief in at the next level. Howard is a massive man who can move people with pure power and leg drive in the run game. Something I noticed with his pass sets is that he displays some pretty good patience to let pass rushers fall right into his anchor, which is strong. Howard is a little bit raw with his pass sets as sometimes he can false step. His movement skills for someone of his size will definitely get him some looks from a lot of NFL teams in round two. Something else that impressed me with Howard is that he handled some of the best competition he saw throughout his career. His game against Auburn showed that he has some legit starter upside.
Number 10: Bobby Evans, Oklahoma
Class:  RS Junior
Height/Weight: 6'5 and 299
Round Grade: 5
Number Grade: 5.25
Red Flags: None
Remember last year when I spent a good chunk of my time killing Orlando Brown for not being able to move? His Oklahoma counterpart, Bobby Evans, is almost the direct opposite of that. Evans can get out into space quickly and be an effective blocker once he gets out there. I like his leg drive in the run game especially considering that he is a bit light for a tackle. Evans showed a good ability to handle stunts and blitzes from all over the field. Evans struggles when he gets into hand fights at the line sometimes. He doesn't have a "go to" move to swipe away the opposing defender's hands. Evans can be late to establish his anchor at times when facing power rushers. Overall, I think Evans has enough tools to be a starting right tackle in the NFL with some swing tackle upside.
Number 9: Greg Little, Ole Miss
Class: Junior
Height/Weight: 6'5 and 325
Round Grade: 4
Number Grade: 5.35
Red Flags: None
The fall of Greg Little has been a truly tragic one. Little started the season out as a consensus first round pick for a lot of people (including myself). Once everyone started to dig into his tape some issues started to arise. Little will get beat cleanly by both speed and power rushers at times for no reason other than effort. Sometimes he will get off balance and end up being on one foot. Little does have some good traits still. He has a good pass set as long as he is engaged in the game. He has good length to keep rushers off of his chest plate and he has good natural strength. Little tested horribly at the combine, but I wasn't expecting anything different. He has enough traits to be a starting right tackle and some upside to be a left tackle as well.
Number 8: Dennis Daley, South Carolina
Class: Senior
Height/Weight: 6'6 and 312
Round Grade: 4
Number Grade: 5.78
Red Flags: None
Here is my official sleeper pick for this tackle class and it's someone you have probably never heard of. Daley is a massive man and an absolute force in the run game with his leg drive, natural power, and massive frame. Daley's massive frame also allows him to swallow up power rushers with an effective anchor in the passing game. I like Daley's ability to find work quickly when running out into space. He isn't the best athlete in the world but he takes good angles and is rarely standing around in space. Daley struggles to get deep enough in his pass sets at times which lead to some easy sacks. I thought I saw some improvements from him over the course of the year, so I'm hoping he will do better with NFL coaching. Daley has enough tools to be a starting right tackle in the NFL with some upside.
Number 7: David Edwards, Wisconsin
Class: RS Junior
Height/Weight: 6'7 and 319
Round Grade: 4
Number Grade: 5.87
Red Flags: None
So, David Edwards played right tackle on a team with a left-handed quarterback meaning he protected the backside of his quarterback. Edwards is a large man with some impressive length he uses to grab onto defenders and control reps from the start. I like that Edwards was almost forced to be off balance when battling with rushers. His first step off the line in the run game is great because it gives him an early advantage to drive defenders off the line. Edwards can get sloppy in his pass sets at times so he's gonna need some technical work at the next level. Edwards has a lot of experience and size to work with heading to the next level. He can be a starting right tackle right away.
Number 6: Kaleb McGary, Washington
Class: RS Senior
Height/Weight: 6'6 and 318
Round Grade: 3
Number Grade: 6.32
Red Flags: None
McGary is someone who has been getting a lot of love in this pre-draft process, especially after the combine. McGary is a good vertical blocker with his size and leg drive allowing him to create space off the line. I love that McGary is always looking for work on the line and in space. He finds someone to hit on every single play and I love that demeanor in a player. McGary does a great job finishing guys into the ground making sure that they have no impact on the play. Something that concerns me about McGary is his pass set versus speed rushers. He got beat way too often for my liking off the edge against speed. If you haven't noticed, the NFL is filled with those guys. McGary projects favorably as a starting right tackle with some left tackle upside if in the correct scheme.
Number 5: Yodny Cajuste, West Virginia
Class: RS Senior
Height/Weight: 6'5 and 315
Round Grade: 3
Number Grade: 6.68
Red Flags: Core muscle injury during the pre-draft process.
Cajuste is a super intriguing player to project to the next level because of his strengths and weaknesses. He does a great job in both long and short pass sets coming from a West Virginia team that threw on almost every down. He has heavy hands that can pack a good first punch stunning defenders in their place. I liked what Cajuste was able to do when collapsing the line of scrimmage in the run game making for some big outside lanes. The biggest issue on Cajuste's tape is that he seems a little bit soft at times. He will back down from contact at times and try to just guide defenders away from the ball which isn't ideal. He also has the core muscle injury that he recently got surgery on so that will make his early availability in question. I think Cajuste can be a starting left tackle at the next level with some development.
Number 4: Andre Dillard, Washington State
Class: RS Senior
Height/Weight: 6'5 and 306
Round Grade: 2
Number Grade: 7.64
Red Flags: None
Andre Dillard's game is one of duality as far as his strengths are concerned. He's a fantastic pass blocker with plenty of experience with it at Washington State. He does a good job quickly getting back and setting up his base. Dillard does a nice job handling speed off the edge with his above average athletic traits. He mirrors defenders well when he gets engaged with their hands. Dillard is a great mover in space and has some of the best short area quickness in the entire tackle class. While Dillard is a great pass blocker, he isn't a great run blocker. Dillard is super light on tape (I don't think 306 is the weight he will play at in the NFL) and he gets pushed around way too easy for my liking. He doesn't create a lot of movement at the line of scrimmage either so his lanes are pretty tight. He doesn't have a lot of natural power, so I'm not sure who much things can be improved. Dillard can start at left tackle for a team from day one but needs work as a run blocker.
Number 3: Jawaan Taylor, Florida
Class: Junior
Height/Weight: 6'5 and 334
Round Grade: 1
Number Grade: 8.81
Red Flags: None
Taylor came out of nowhere this season to be one of the best tackle prospects in this entire class. On tape, he looks like an athletic freak holding down the right side of the line for the Gators. He has some of the quickest feet in the draft allowing him to always be set and ready for pass rushers coming down hill at him. He's a terror when asked to pull out into space using his short area quickness and size to overwhelm most linebackers. He went up against some really talented edge rushers this year and handled them all pretty well. My only gripe with Taylor is that his hand usage could be greatly improved. Taylor is a starting right tackle day one and I think he could work fine on the left side as well.
Number 2: Cody Ford, Oklahoma
Class: RS Junior

Height/Weight: 6'4 and 330
Round Grade: 1
Number Grade: 8.82
Red Flags: None
Most people on draft twitter will tell you that Ford should be ranked as a guard prospect because he lacks the needed length to play tackle. I understand that, but I think his tape at tackle is good so I'm keeping him there. Ford has elite quickness and does a great job getting into his pass sets quickly. He does a great job mirroring rushers once he's engaged with their hands. Ford always keeps his hands inside when run blocking allowing him to control the point of attack fairly often. I like what I saw from when asked to pull outside and be the lead blocker on a running play. He showed enough athletic ability to get out into space and eat up linebackers at the second level. The only flaw in Ford's game is that sometimes he can be overwhelmed with speed off the edge making for sloppy pass sets. Ford can start at either guard or right tackle on day-one which only adds to his overall value.
Number 1: Jonah Williams, Alabama
Class: Junior
Height/Weight: 6'5 and 301
Round Grade: 1
Number Grade: 9.01
Red Flags: None
I think both of my parents would describe me as pretty stubborn when it comes to a lot of things. One of those things is insisting that Jonah Williams is a left tackle at the next level despite everyone telling me otherwise. His pass sets are beautiful to watch he takes fantastic angles and always gets back into his stance quickly. He does a great job creating movement in the running game with leverage and quickness. His first punch is powerful and typically located very well. His football IQ is through the roof. On tape, he showed that he could handle blitzes, stunts, and twists. I know that his lack length is a concern for some when talking about Williams playing on the outside but it doesn't show up on tape often at all. I will sum it for you like this: Williams can start at left tackle, right tackle, either guard spot, and center for a team from day one. If that doesn't make him an elite prospect than I don't know what does. I would draft Williams to be my starting left tackle if given the chance.